Heading into SHOT Show, you have to have a list. Its just too big (and getting bigger lext year) to cover in an aimless way. And when I heard that TrueTimber was showcasing a hunting blind with some new-to-blinds technology, I added it to my list of must-sees.
At Range Day, inventor Brent Fader was there to demonstrate how it works, and he had their smaller model set up as a demo. He proceeded to educate me on the use of inflatable beams to erect these blinds.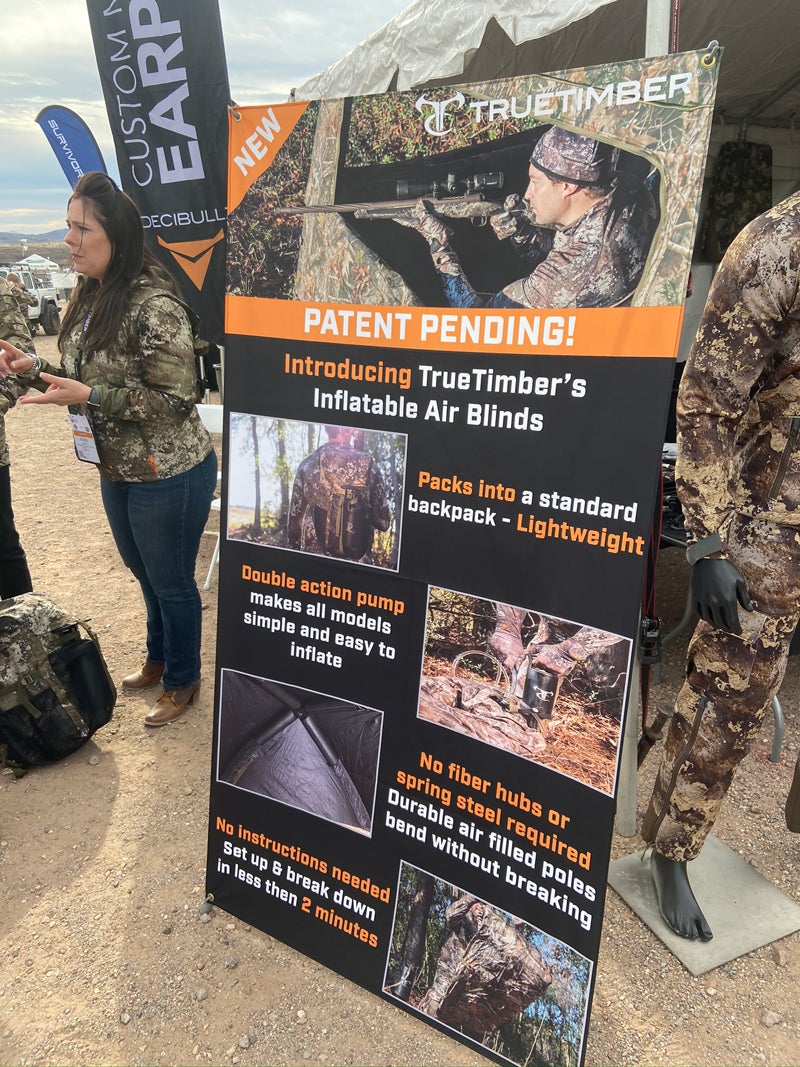 The system looks simple and effective, which I love. Ill even forgive the typo on their display.
(Photo Russ Chastain)
Each blind comes in a packpack for carrying it into the woods. When you get to your spot, unroll the blind, hook up the pump to whichever valve is handy (the small blind has two; not sure how many the large model has), and pump it up.
I asked him how long it takes to erect the blind, and he said he did it in 37 seconds that day, with an audience.
The inflatable beams are tubes sewn in a particular shape, each with a matching bladder inside. Once filled with air to about 3.5 PSI, they hold their shape very well indeed.
When its time to break it down, open the valve(s), roll it up, and load it back into the pack.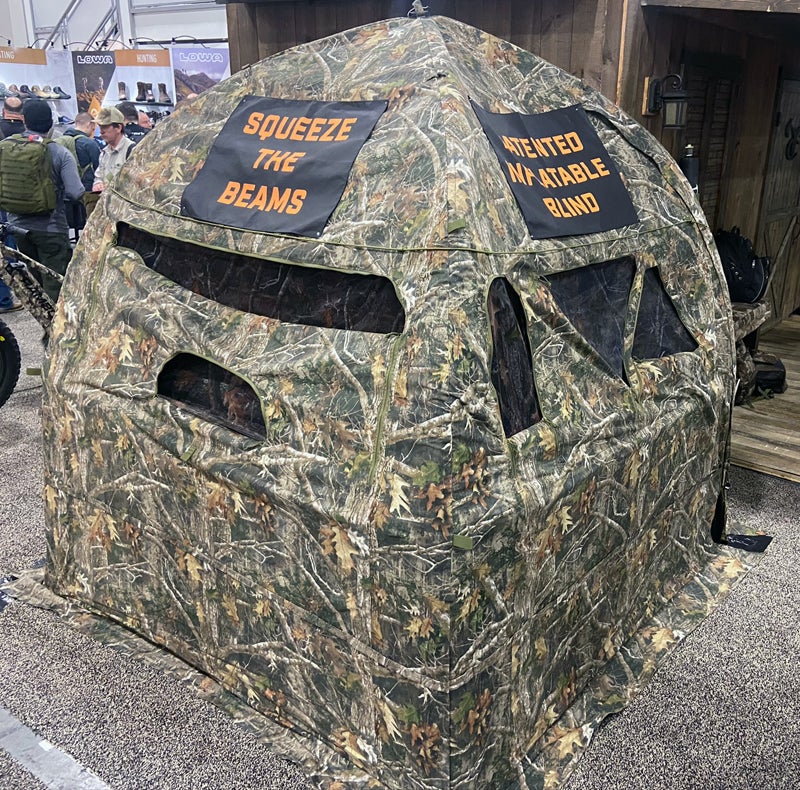 Large model, on display at SHOT Show.
(Photo Russ Chastain)
The beams are not easy to puncture, but if you do youll have two permanent patches with which to seal any holes. Should a broadhead or scattergun go haywire and completely blow out a beam, each can be replaced pretty easily. And you get a 5-year warranty on the beam bladders.
Brent is a devout believer in this technology. Hes also spent a lot of time hunting in blinds and he strives to eliminate all of the shortcomings hes found in them. To that end, he has placed rifle slits near the corner beams of the small blind, reinforced with strips of tough fabric. This will support your rifle or shotgun with ease.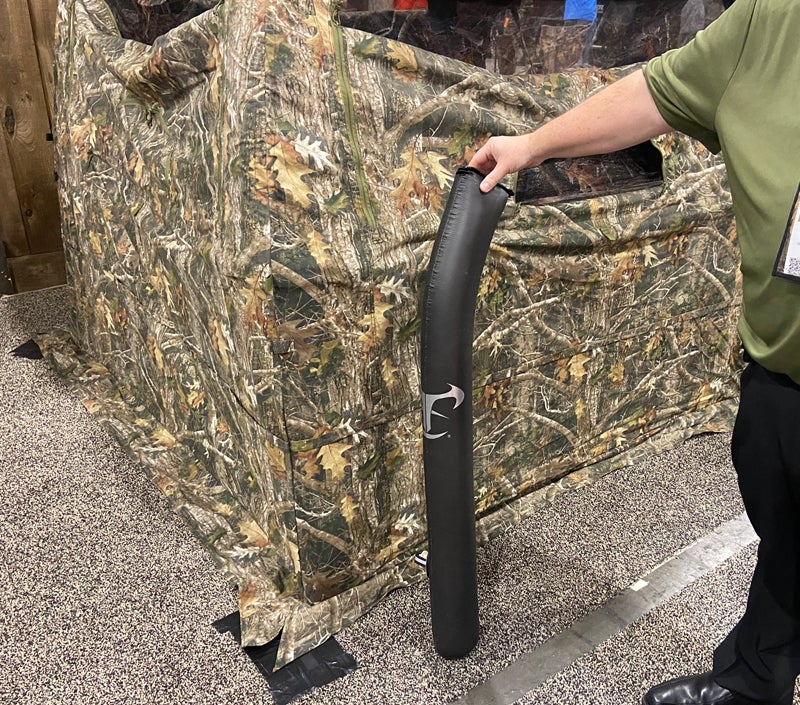 Inventor Brent Fader shows what the air beam actually looks like.
(Photo Russ Chastain)
On the larger model, horizontal side beams will support the weight of your firearm, theoretically eliminating the need for bipods. Im reserving judgement on that, though, because there may be some flex of the entire blind when you shift the gun while its resting on the beam. Im hoping to field-test both models so I can tell yall all about them.
Hes even added small lower window flaps so you can let your kid peek out of the blind without opening a large window all the way, which would allow the critters to see into the blind too well.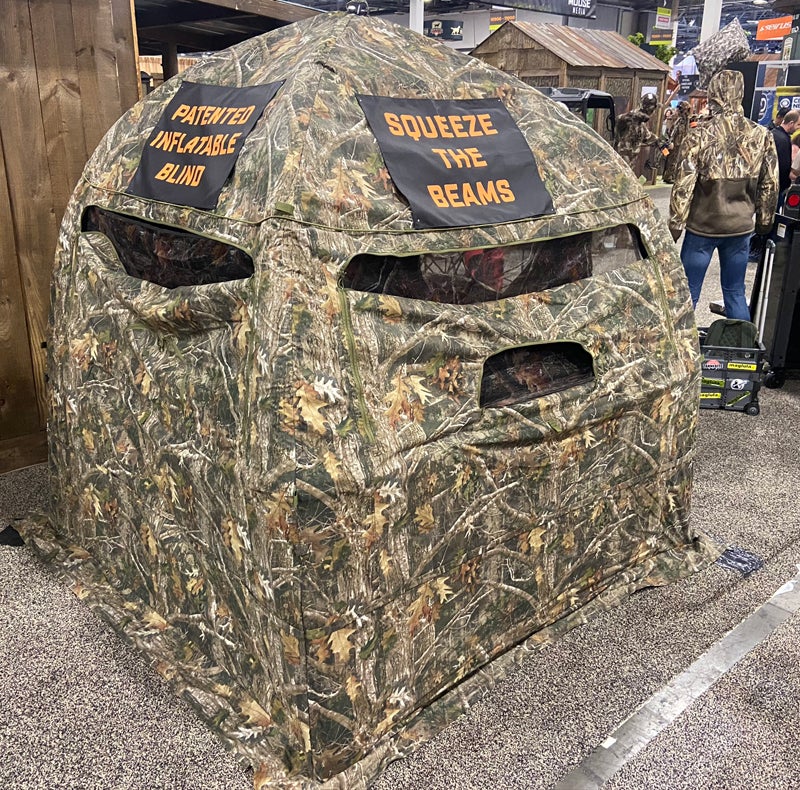 Large inflatable TrueTimber hunting blind.
(Photo Russ Chastain)
Production is planned for this summer. The large one in heavy poly-cotton fabric (seen here) will be about $250 retail, while the same size in 300 denier will run about $200.
The smaller version, which is about 65 square and can have the sides pulled out via stake lines to make it roomier for bowhunters, will list for around $150 using 150 denier fabric.
To Brent, this is only the beginning. Hes excited about all the various shapes that can be created using this system, instead of just the squares and rectangles to which weve grown accustomed. Think of short blinds for turkey hunting (or any hunting in open country), large hay bales for hunting in farm country, or even big ol tree trunks all in a portable, packable format.
Rest assured Ill be keeping my eyes on TrueTimber for news on this unique version of hunting blind, and Ill pass on any news as it comes along.
The post [SHOT Show 2020] TrueTimbers New Inflatable Hunting Blinds appeared first on AllOutdoor.com.