Ive been playing around a lot lately with my new replacement bread machine. I didnt realize how much I missed having one until I got a new one. One of my favorite things to make in a bread machine is homemade cinnamon rolls. I love that the machine does most of the work for me when it comes to the dough.
These pink princess cinnamon rolls were made with a specific purpose and reason. For my little princess. Okay shes not so little anymore. But, a few years back she ended up getting sick on cinnamon rolls and has since turned her nose up at them. And being as they used to be one of her weekly staples I thought Id try to make these beauties to try and suede her back over to the cinnamon roll loving side of things.
So far, no luck. Even with these pretty pink cinnamon rolls being a perfect sweet treat for the upcoming Valentines Day, shes still not interested in giving cinnamon rolls another shot. Oh, well I guess that means more for the rest of us.
These cinnamon rolls are homemade and from scratch. With just a touch of pink food coloring, these rolls are traditional cinnamon rolls in most ways other than their pretty pink color. I kept them lightened up by using less butter, whole wheat white flour, and of course subbed some of the sugar for natural sweetener. (You know, like stevia, monk, etc.)
You can really get away with making these any princess color you want, but today I wanted pink/rose gold and thats what I went with. Plus, I mean look at those glorious rose gold sprinkles. They needed somewhere to shine.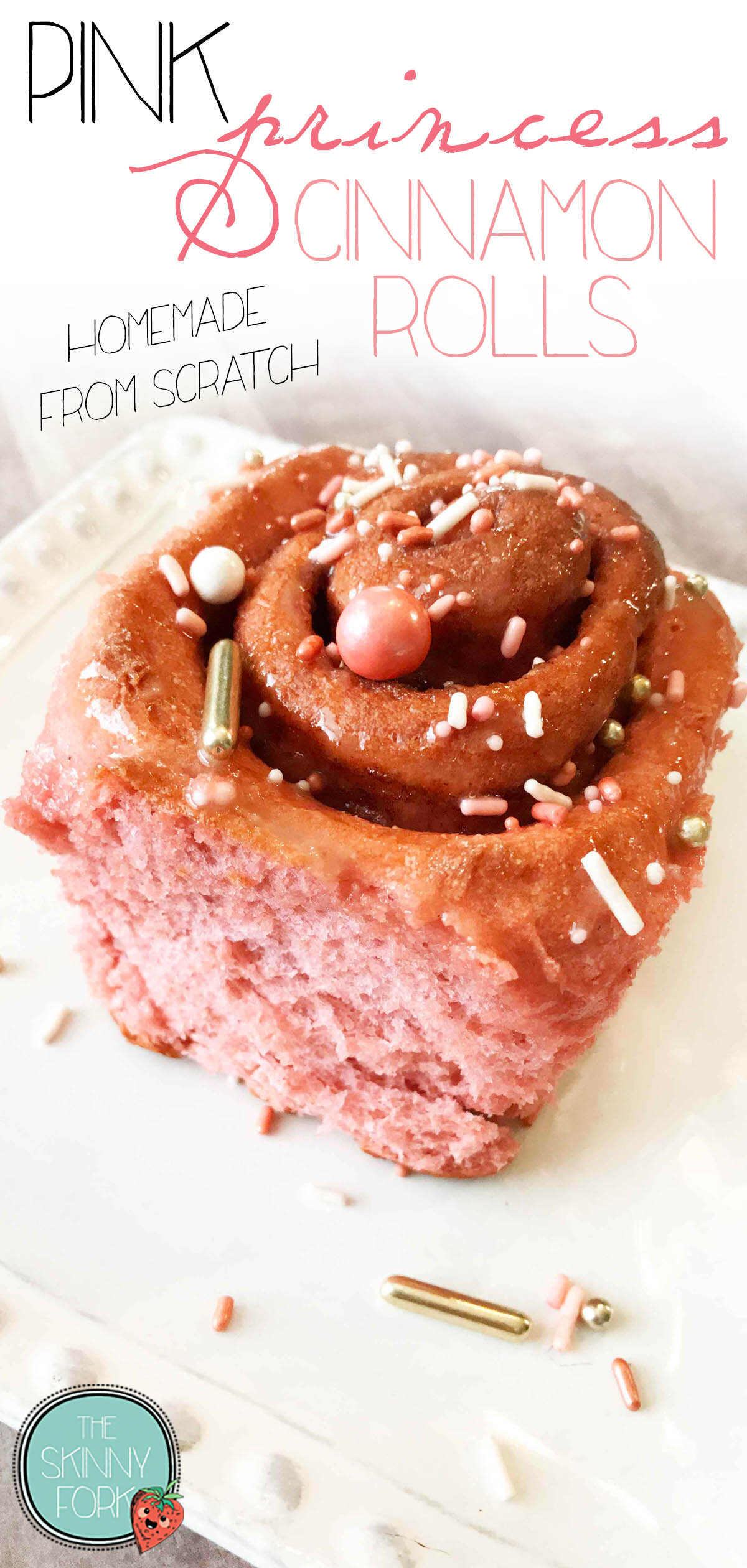 Pink Princess Cinnamon Rolls
TheSkinnyFork.com
Homemade pink cinnamon rolls that are as pretty as they are delicious! Make them with a bread machine or without. Either way, they're sure to be a hit.
Prep Time:
2 Hours
Cook Time:
25 Minutes
The Skinny:
Servings: 8
Serving Size: 1 Cinnamon Roll
Calories: 269
Fat: 6 g
Saturated Fat: 3 g
Carb: 60 g
Fiber: 2 g
Protein: 7 g
Sugar: 8 g
Sodium: 136 mg
Ingredients:
Dough:
1 C. Hot Water
1 Tbsp. Butter
1 Whole Large Egg
2 Egg Whites
1/2 Tsp. Vanilla Extract
Pink Food Coloring
1/4 C. Sugar
1/4 C. Natural Sweetener
4 C. Whole Wheat White Flour (Spooned & Leveled Properly)
1/2 Tsp. Salt
2 1/4 Tsp. Active Dry Yeast (Or 1 Package.)
Filling:
3 Tbsp. Butter, Room Temperature
1/4 C. Natural Sweetener
2 Tbsp. Sweetener/Brown Sugar Blend
1/2 Tbsp. Ground Cinnamon
Drizzle:
1/2 C. Powdered Sugar Replacement
1/4 C. Powdered Sugar
1 Tbsp. Unsweetened Almond Milk
1/4 Tsp. Vanilla Extract
Pink Sprinkles of Choice
Directions:
Bread Machine:Place the ingredients for the cinnamon rolls into a bread machine in the order listed and set it to the 'dough cycle' setting.

No Bread Machine: If you do not have a bread machine, you can combine the hot water and yeast into a bowl and allow the yeast to activate and foam up. Once the yeast is active you can combine the remaining ingredients in the bowl of a stand mixer with the hook attachment or knead by hand.Spray a large bowl with non-stick cooking spray and place dough inside. Cover with plastic wrap and allow it to sit for an hour until doubled in size.

Once the dough cycle has ended or the dough has risen for it's first time. Punch it down and allow to rise for another hour or until doubled in size once more.

While the dough is rising, whisk together the 1/4 C. sweetener, 2 Tbsp. brown sugar blend, and 1/2 Tbsp. cinnamon for the filling.

After the second rise, remove the dough to a lightly floured surface and roll out into a large rectangle.

Spread the 3 Tbsp. butter over rectangle and sprinkle the filling mixture over the top the dough.

Roll the dough into a tight, long, skinny log. Cut into 8 equal pieces. (I had 4 leftover end pieces.)I use floss to do this! Yes. Floss.

Lightly spray two rounded 8 inch cake pans or a 13x9 with non-stick cooking spray and place the cinnamon rolls into the prepared pan(s). Cover with plastic wrap and allow to rise for another 30 minutes.

Preheat oven to 350 degrees F. Once ready, remove the plastic wrap and bake the cinnamon rolls for about 25 minutes.

In the mean time, combine the 1/2 C. powdered sugar replacement, 1/4 C. powdered sugar, 1 Tbsp. milk, and 1/4 Tsp. vanilla extract together in a bowl and whisk together until smooth and creamy.

Remove the cinnamon rolls from the oven and allow to cool slightly before drizzling the frosting over the top. Top with a few sprinkles if desired and enjoy!
Step-by-Step Photos:
Nutritional Claims:Low SodiumLow PotassiumKidney Friendly VegetarianPescatarianPeanut FreeSoy Free Fish FreeShellfish FreePork FreeRed Meat Free Crustacean FreeCelery FreeMustard FreeSesame FreeLupine FreeMollusk FreeAlcohol Free Kosher