The holidays are almost officially upon us, so I thought I'd share just a few (ok, a lot!) of our favorite gifts, products, services, gear and ideas for active outdoorsy kids!  If you're desperately looking for the perfect gift for a curious, fun, active kid in your life, but are tired of giving cheap plastic toys that break or get discarded after a few uses, this is gift guide for outdoorsy kids is the best one out there!
This gift guide for outdoorsy kids contains everything from DIY gift ideas, to gift bundles, kid-friendly services, memberships, products, experience gifts and so much more! No matter what age, size, interest, location or budget, we've got a gift idea for you and the outdoorsy kid in your life!
(post contains affiliate links)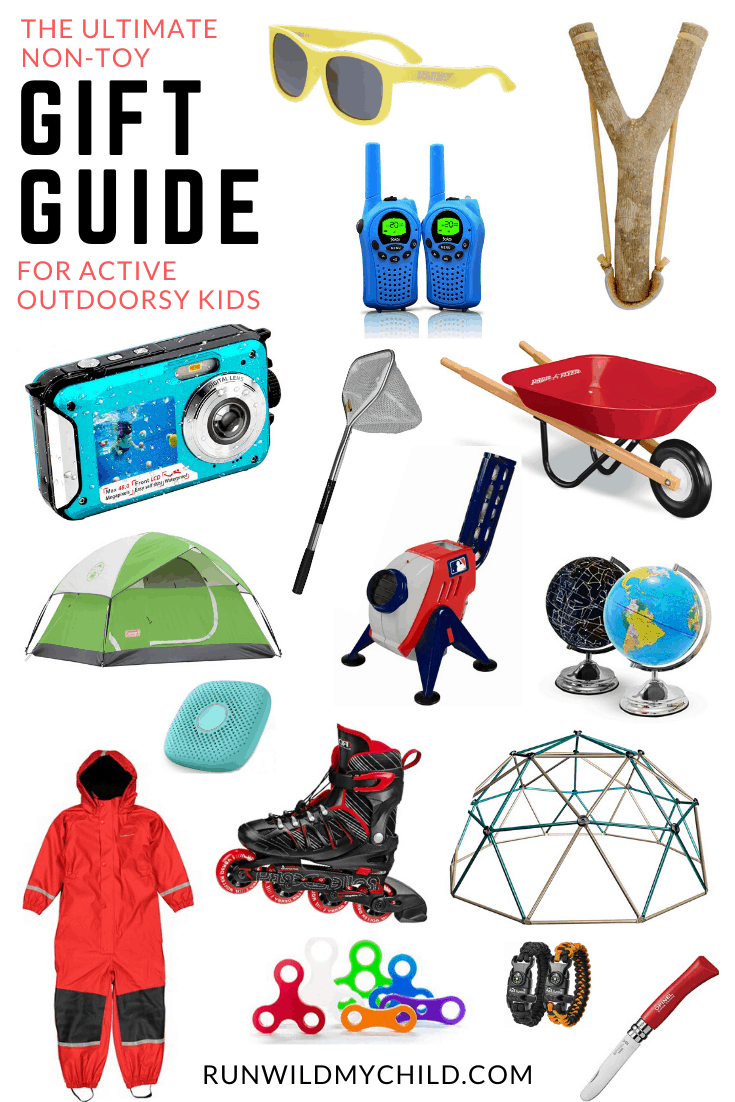 Walkie-talkies – Walkie talkies are a fun way for the kids to play together (inside or outside), but they can also be a great way for parents to stay in touch with kids when they're out exploring close to home (but may not be visible). Plus, they'll be useful on hikes and camping trips.
Toolbox & tools – I'm talking real "grown-up" tools, none of that cheap plastic pretend stuff. Kids love helping out around the house. So if they're old enough, why not give them a set of real tools that they can use to work on their own handy skills. You can buy a beginner set or DIY your own. Any small toolbox will do with an assortment of tools (either new or hand-me-downs). For example, screwdrivers, tape measure, hammer, wrench, level, pliers, nails, drill, etc.
Sleeping Bag – If you know a kid that loves to camp or is about the age to start attending sleep-overs, a quality sleeping bag is a must-have item. We love these Kelty sleeping bags because they're light-weight, super warm, easy to stuff and will last for years.
Tent – This 4-person dome tent would make a great gift for kids. It's relatively inexpensive (only $53!) and can be used on camping trips or set up in the backyard for camping. Let your kids learn how to set up the tent by themselves and practice putting it up and taking it down at home.
Gardening gear – Put together a beginner's gardening package which includes kid-sized gardening gloves, watering can, shovel, seed packets, gardening books, hose and plant markers. For extra cute packaging, put it all in a kid-sized wheelbarrow or a giant colorful flower pot!
Slackline – Slacklining (the act of walking/balancing on a suspended webbing between 2 anchors) is a great outdoor activity for kids. My two kids (ages 5 and 3) love our slackline and can spend hours in the backyard playing on it, year-round. We've got a great post on beginner Slacklining for Kids to get you started.
Hammock – I don't know a single kid that's ever seen a hammock and didn't want to play in it. Hammocks are a blast! They make the perfect gift for kids of all ages and can be used in a number of locations, such as your backyard, on camping trips or even at the park!
Horseback riding lessons – Horseback riding is not only a great way for kids to connect with nature and animals, but it strengthens muscles, improves posture, balance and coordination and has been shown to lower stress levels. Riding and caring for a horse also promotes responsibility, patience, and self-discipline. Give a child a gift certificate for lessons and teach them a skill for life.
Fishing pole – Fishing poles make great gifts for outdoorsy kids. We spend a LOT of time fishing and have tested out quite a few poles. The best kid's fishing poles we've found are made by Zebco. The Zebco Dock Demon spin-cast rod and reel are the perfect entry-level fishing pole for little kids (under 6). They're durable (virtually unbreakable), pre-spooled with a short rod and small reel for little hands. Both my kids learned how to fish on this pole. For older/bigger kids, Zebco has a number of rod and reel combos, including the 33, the 202 (it's pink!) and the 404.
Pocket knife – If your kids are old enough (and mature enough) to handle a pocket knife for their outdoor adventures, this model is high-quality and specially designed for children. It features a rounded edge for added safety. But remember, the blade still has a sharp edge. So be sure to talk about safety and practice safe knife skills.
National park passes – If you know a kid that's into national parks and exploring, a national park pass would be an incredible gift that lasts all year long. Each pass costs $80/year and covers entrance fees and standard amenity fees at more than 2,000 national parks and national wildlife refuges.  A full list of federal recreational areas by state can be found HERE.
Head lamp – I don't know a single kid that hasn't been obsessed with flashlights at some point. Every year we give our kids flashlights as stocking stuffers. Headlamps are even better! Both my kids are getting one this year. I'm sure we'll get lots of use out of them while camping, fishing, hiking and chasing lightening bugs.
Painted rock tic tac toe game – We've got a great tutorial on how to make this fun DIY tic-tac-toe game for kids of all ages. Fun, protable and perfect for playing outdoors – this gift can be used for years for kids and adults alike.
Fruit picking gift cards – Experience gifts are high on my list of favorite things to gift kids. Why not make the experience something the entire family can do together outdoors, like picking fruit? Gift a gift card to your local nursery/orchard for a fruit picking adventure. I guarantee the kids will love the experience and enjoy bringing home boxes of freshly picked strawberries, peaches, blackberries, blueberries or apples!
Camera – A small digital camera is a great gift for any kid and perfect for an outdoor explorer wanting to document their adventures. I love giving our kids a camera and seeing the world through their eyes. Not only do we get some great shots from a whole new perspective, but they're super proud of their photos and it keeps them interested when out and about. Although, I will say that we end up with an extraordinary amount of butt shots, so consider yourself warned. (For a fun twist, try this underwater camera which would be a blast to play with in the pool, ocean or creek.)
S'mores kit – If your kids are anything like mine (or me), s'mores are just about the best treat/dessert in the entire world. Perhaps it's the perfectly toasted marshmallow contrasted with the cold chocolate bar on the sweet crunch of the graham cracker. Or perhaps it's the fact that s'mores require being outside, around a beautiful campfire, usually surrounded by loved ones. Either way, a s'mores-making gift bundle of ingredients would make a perfect present for any kid. Make sure to include these fun mallow roasting skewers for the perfect campfire cookout.
Bike (or balance bike) – Every kid needs a bike. We're big fans of the entire Schwinn SmartStart lineup, specially designed for children and grow with your kid. If your little one is too little for a pedal bike, try a balance bike. And if you want to start biking together as a family, how about a bike trailer? The Burley Encore is one of our family's favorite pieces of gear ever! It can be used as a bike trailer or a stroller. It's a perfect gift for the entire family.
Yeti tumbler – If you're tired of cheap plastic sippy cups and water bottles, the Yeti stainless steel insulated tumbler is the answer. Stay hydrated in style without all the cheap plastic. The Yeti Rambler tumbler is a good size for small hands. It comes in a variety of colors and has a magnetic locking lid to prevent spills. They're also BPA free and dishwasher safe.
Teepee – A teepee (or play tent) is a great addition to any room or play space for kids. Not only does it fuel kid's imaginations, but it provides a comfortable place for reading or playing. They come in a variety of sizes and colors, usually with wooden poles. Throw in some fairy lights, pillows and a few books and gift a child their own private reading nook.
Rock polisher – I'm going to let me inner-nerd shine and tell you that the rock polisher I received as a kid was one of my favorite gifts of all time. Yes, I'm serious. A rock polisher is a great gift for any kid interested in nature, science, rock collecting or even jewelry-making.  Promotes an interest in geology and science and helps kids with patience (because it takes time to polish a rock – it's not an overnight process).
Rain suit – Give your child the gift of freedom to get as wet or muddy as they want with this amazing full-body rain suit from Polarn O. Pyret, makers of some of the very best outdoor kids clothing. Fleece-lined, PFC-free, waterproof and windproof to keep your little one dry and warm. Super durable, machine washable and easily wipes clean after muddy play. Sizing runs on the very generous side – no need to size up!
Scooter – A scooter is another great way to provide exercise, fresh air and quality outdoor time to a kid. Scooters are great for kids as young as 2 years old (the 3-wheelers) and come in a variety of sizes, colors and speeds. We've got a great review on the new Mongoose Force 3.0 scooter for kids (age 7+).
Mud pie kitchen – If you're handy, put those DIY skills to good use and make a mud pie outdoor kitchen for your kids. There are a million different ways to make a small kitchen countertop, complete with a sink and storage out of old furniture, cabinet or wood pallets. Throw in some hand-me-down kitchen utensils, dishes, pots and pans and you've got yourself the ultimate mud kitchen. It's sure to entertain your children for hours and hours. Just be sure to put it somewhere close to a hose for easy clean-up!
Magnifying glass – A magnifying glass is a great gift for any kid interested in bugs, worms or other small details found in the natural world. This magnifying glass is lightweight with an over-sized scratch-resistant lens and magnifies items 3x. This one is the perfect size for kids and durable enough to throw in an explorer's backpack for carrying on outdoor adventures. Pair it with a bug book and a critter carrier for the perfect intro to entomology gift package.
Fish tank – This awesome little 5-gallon fish tank with curved glass is the perfect beginner fish tank for any kid. The kit includes a hidden filtration system and an adjustable flow filter pump. The white and blue energy-efficient LED light is bright and features a 3-way switch to toggle between white and blue, off. Also included is a base and a unique glass canopy that slides to the back of the aquarium for easy feeding and water care dosing. It's easy-to-assemble, beautifully designed and easy for kids to maintain.
Binoculars – A decent pair of binoculars is a must-have item for any outdoor adventure backpack. These binoculars are suitable for both adults and kids. They offer 12x magnification and are water-resistant. They're perfect for taking along while hunting, hiking, exploring, sailing, bird watching, concerts, outdoor sporting events, etc.  Bonus accessories includes hand strap, carrying pouch and cleaning cloth.
Fruit tree – I love the idea of gifting a child a small fruit tree that they can plant and care for. Not only does this teach kids about nature cycles, seasons and responsibility, but can provide fruit to harvest, bake with or gift to others. Ideas include: peach, cherry, apple, lemon or persimmon.
Adopt an animal from local zoo or wildlife sanctuary – A good friend adopted an animal from our local zoo for each of my kids last year and it was one of their all-time favorite gifts. Each animal came with a personalized certificate for the kids, which they loved. Having their "own personal animal" at the zoo made each trip there even more special. They loved checking in on their animals, naming them and learning about them. You can pair the gift with a print-out of fun facts about that animal, a photo, a book or even a small stuffed animal.
Flower press – A flower press is a perfect gift for a kid interested in plants/flowers, making their own gifts or arts and crafts. This kit includes a flower press, glue, brush and double-sided tape. The 4-inch press can make cards, bookmarks, trinket boxes, and more. Pair with some watercolor paints, wildflowers seed packets or a blank scrapbook for a package gift.
Butterfly hatching kit – This is another one of my kids' favorite gifts, both to give and receive. For the last 3 years, we've grown our own caterpillars and hatched our own butterflies for release. The kids absolutely love checking on their progress daily and letting them go in our garden. Even mom and dad had fun with this project and became attached to our caterpillar friends. The kit comes with a netted habitat, feeding tools, instruction manual and voucher to receive 5 live caterpillar (for growing and releasing during the proper season), which will ship to you at a later date.
Compass & survival bracelet – These bracelets are the ultimate 5-in-1 survival tool and the perfect accessory for the ultra-adventurous kid. Each bracelet contains: (1) high-quality compass, (2) flint fire starter, (3) fire scrapper, (4) emergency knife, and (5) emergency whistle. It comes in a w

ide range of colors and sizes (including kid's sizes) and is made of ultra-strong, military-grade 550 parachute cord.  The bracelet itself can be deployed for 12 feet of paracord, perfect for any situation where an extremely strong rope or cordage is needed. Use it as a trap, make a shelter, or use one of the finer 7 inner strands as fire tender, fishing line o sewing string. It also c

omes with a useful leaflet with instructions, survival tips & ideas.
Nature journal with colored pencils – There are so many fun ways to incorporate art and nature into a journal. Gifting a child a blank journal and some beautiful quality colored pencils can open up all kinds of inspiration for journaling. From writing to sketching to including press flowers and leaves, a nature journal is a great way for kids to observe and learn about nature.
Relay Go – Similar to a walkie-talkie, the Relay Go is great for kids that want some additional freedom, but may not be ready (or need) a full-on smart phone. The Relay Go lets you communicate with your child at the push of a button, without a screen or any social media temptations. It's GPS-enabled with 4G nation-wide service and geofencing capabilities. It allows your child to send you messages and communicate with up to 10 devices on 1 account.
Bird calls – If you know a budding ornithologist or a kid that's into hunting, bird calls can make fun gifts. You can find a variety of different species, depending on what type of bird you'd like to imitate. This classic bird call chirps and tweets and is perfect for communicating with backyard birds. On the other hand, if you know a small hunter, they may be more interested in an owl, turkey, or duck call.
Story stones – Store stones help build imagination and storytelling skills. By using the stone, children can create a story or retell an adventure by using the pictures on the stone. Story stones are a great educational tool and make a great gift for both kids and teachers. There are a variety of story-telling games you can play in a group – hold the bag and let each child pick a stone, then go around the circle and have each child build on the story by adding something about the stone they picked. We love these graphics and story prompts from Little Pine Learners, which allow your kids to be part of the process, from creation to story.
Giant cardboard box – No, this is not a joke. A giant empty cardboard box is a blank canvas of possibilities to a kid. Pair this box with a box of markers, some stickers and endless imagination. Help a kid turn it into a pirate ship or a princess castle or a dragon's lair. A box can be a restaurant, a tree house or a post office. It's whatever you want to make it and can be more fun (especially with the help of a fun grown-up) than any toy on the market. If you want a giant box that's ready for assembly and easy to decorate, check out this one.
Gym1 Indoor Playground Set – While this one isn't technically "outdoorsy" at all, it's perfect for those days/times when kids are stuck/trapped/forced indoors and need to burn some energy. If your kids are like mine, they literally start climbing the walls after a while. This thing lets them swing and climb indoors with style! It works for kids 

ages 3 and older and is s

trong and safe enough to hold 300 pounds (yet weighs less than 10 pounds). The whole thing c

an be assembled in minutes and installed in seconds without any drilling or holes. It fits regular 25″ to 36″ wide doorways that have trim at least on the top. 

Includes patented core doorway unit plus swing, ladder, and rings. Fun for all ages!

Bait net – Whether you're at the beach, in a creek/stream or next to a pond, kids love playing in the water and catching things. This is the very best bait net on the market – trust me, we've been through a million. Most nets have the netting on the outside of the basket, which means after a while of scraping on sand and rocks, the net wears thin and rips. This one has a metal framing (net guard) and a super durable handle, ensuring it lasts years longer than the others. A bit more expensive, but totally worth it. Perfect for scooping rocks/shells and catching minnows, crabs, crawdads, etc. (slightly smaller version)
Geometric Dome Climber Jungle Gym – If you've got space in your yard for this awesome geodome jungle gym, get one! Our neighbors have one of these incredibly outdoor toys and it's a huge hit with all the kid on the street! It helps with upper body strength, coordination and balance, plus helps develop that all-important vestibular sense!
Mixed tape/CD – This one might give you a bit of pause, but hear me out. How fun would it be to gift a kid a mixed tape/CD of some songs, sounds and stories that are special to you. Whether this is coming from a parent, a family member or friend, a mixed tape is a really fun way for kids to experience something new that's personalized and made just for them. Use a microphone and record your own voice on the tape – tell a story about an adventure you had, when you first met them or a funny thing they did when they were little. Add a few of your favorite songs. Make it personal and special for the child receiving it and I promise it'll be a big hit!
Barefoot shoes – Kids are born with perfect feet. Don't mess them up with tight shoes that restrict their movement and keep them from connecting with the earth below them. Vivobarefoot shoes are my family's favorites. They have ultra-thin, puncture-resistant soles to let the 200,000+ neurotransmitters in kids' feet feel the ground while keeping them protected. The more feet can feel, the more the foot-brain connection stays sparking and active.
Microscope – For your budding scientist, this beginner compound microscope set provides high magnification for educational applications. The set includes a monocular viewing head with LED lights and mirror illumination and a built-in color filter wheel. The forward-facing rotating turret provides up to 1200x magnifications. Rack-and-pinion focus mechanism on a durable stain-resistant metal frame. It comes with a 52-piece accessory kit and a hard-sided plastic case. Pair it with this awesome book all about exploring nature with a microscope.
Subscription to a magazine – Kids (and adults!) love getting their own fun mail, so give a gift that gives all year round with a magazine subscription. Offering kids access to magazines at home is not only a novel way to get them to read, but it also hones their skills at reading non-fiction as well. Magazines offer short articles with lots of visual support from pictures and aren't as intimidating as books for struggling readers. A few of our favorites that encourage outdoor fun and creativity are: (1) National Geographic Kids; (2) Ranger Rick; (3) Zoobooks; (4) Sports Illustrated Kids; (5) Click; (6) Ask; (7) Boys Life; (8) Brainspace; (9) Owl/Chicadee/Chirp; and (10) Jack and Jill.
Nature books – And while we're on the subject of getting kids to read, books make great gifts! If you missed it, we've got a wonderful list of 30+ of the most beautiful children's books about nature (story books) and this list of 80+ educational nature books for kids (mostly non-fiction). Add a couple to a child's library and give a gift they can enjoy for years and years.
Globe – Speaking of little smarties, how about a globe to encourage a kid's curiosity about the Earth and the sky! This globe does double duty and teaches kids geography and astronomy.  This unique, modern design shows the traditional political map, PLUS 88 modern constellations. The globe is perfect for kids, measuring about 10" (the size of an NBA basketball), without the stand. It is large enough to clearly show countries and major cities, but small enough so your kid can read and spin it. Plus, you don't need any batteries to make this globe light up – it plugs in!
Sunglasses – Protect your children's eyes while they're outside playing with these Babiator sunglasses. They come in 2 styles (the Navigator UV and the Aviator) and a variety of colors. They're designed to withstand the strains of children in everyday life. Frames are made from rubber, making them strong and flexible, shock and impact resistant. Whether your child twists, bends or treads on these sunglasses, they will not break! In addition, these UV400 lenses stop all UVA and UVB rays and protect the eyes of your child against the bright sunlight. Available in baby and toddler sizes and polarization.
Membership to local attraction – Another worthwhile experience gift that gives all year-round. A membership to a local zoo, wildlife sanctuary, science center, nature center or botanical garden is a great gift for a kid (or an entire family). Lots of places offer special discounts and perks with your membership, including event tickets, early-access hours, discounts on food/snacks and free parking.
Bow & arrows – This high-quality bow & arrow set from Squire's Armory (Etsy) in Pennsylvania will entertain your kids for hours while providing a safe introduction into the world of archery. Made in one solid piece design from PVC pipe for long-lasting durability. This bow is both left and right hand compatible, with foam tip safety arrows and shoots approximately 90 feet.
Insulated Snow Boots – If your kids are in need of new snow boots this year (and aren't they always?), we highly recommend the See Kai Run Gilman or Atlas waterproof and insulated snow boots. They feature 3M Thinsulate thermal lining and insole good to -35 degrees. Make sure you size up 1 full size to get a perfect fit, due to the gusseted tongue construction that protects the boot from water, snow, and debris!
Hook and loop closure with faux elastic laces allows for secure fit and custom adjustability
Stick-lets fort building kit – Have you heard about Stick-lets? Kids can build a mega fort with just sticks and a set of Stick-let connectors. This set of 18 flexible, safe, silicone connectors can be twisted, stretched, and otherwise manipulated to accommodate almost any kind of construction—forts, toys, animal habitats, geometric shapes, and much more (depending on the size of the sticks). Great for 1–2 builders and includes a carrying bag and informational pamphlet.
Sandbox – A sandbox is a perfect gift for the outdoorsy kid. This one, crafted from cedar wood, has a sand screen bottom that helps drain moisture into the ground and a small square design perfect for backyards. Just fold out the doors of the sandbox to form 2 benches that allow your child to sit and play (200 lbs. capacity for each bench). Has a capacity of 750 lbs. of sand for the sandbox. If you're handy, you can also build this yourself! My dad made one of these (using these plans) for our kids and it was a huge hit!
Fitness tracker – Encourage your kids to get outside and active with this waterproof fitness tracker. It syncs via Bluetooth with your phone or tablet and tracks steps, sleep, calories burned and more. Promotes a healthy lifestyle and sleep habits in your kids. Set goals and challenges for the family, work on math skills, track improvement over time. So many fun ways to use these little devices.
Rope climber – This rope climber is a great introduction to a challenging, fun, and traditional fitness sport. It includes a circular rubber bottom disc that kids can stand or sit on to swing, hand and toeholds to help them climb, and lots of rope to grab and climb without aids. Hang it from a swing set or a tree branch and watch kids have fun with this simple but wonderfully multifunctional invention.
Animal masks – Every kid loves pretend play and now you can let your kids' imagination run wild with a set of fun animal masks. I love this 18 pack of felt masks that come in a variety of animals and are perfect for younger kids. These animal masks are made of high quality soft felt, durable and safe. They'd be perfect for playing games with a group of kids at a birthday party or for putting on shows and plays.
Hiking backpack – Getting your kid their own hiking backpack is a great way to encourage them to start carrying their own gear and supplies on hikes. Make it comfortable for them with a nice backpack, specifically designed and sized for kids. The Deuter Junior is a great backpack for kids ages 5 and up, with adjustable S-shaped soft-edge shoulder straps that are ergonomically designed to relieve neck strain and a chest strap to helps kids manage load. For smaller kids, try the Mountaintop toddler backpack in pink or green.
Slingshot – We love these hand-made slingshots from HellaSlingshot (Etsy). They're just like the wooden slingshots you made as a kid, but with an added touch of grown-up craftsmanship. Each one-of-a-kind slingshot is handmade in San Francisco from forked tree branches. The bark is left on for an authentic, rustic feel and outfitted it with a leather projectile pouch made from natural latex tubing and imitation sinew. Perfect for hiking and camping, yet powerful enough for slingshot hunting. Choose your own ammo, too! (wooden or felt balls are great starters for kids)
Wild Explorers Club membership – The Wild Explorers Club is a monthly, online adventure program designed to ignite a heart for exploration and wonder in kids. The assignments are intended for kids ages 6-12, but younger children can participate with the help of their parents. The membership is $14/mo and includes weekly adventure assignments for each animal level, a monthly "Wild Explorers" print magazine in the mail, a free logo patch for signing up and a patch and certificate for each level completed. One membership covers your entire family, and multiple kids can participate in the program together.
Ski pass/lift tickets – If you're lucky enough to live in an area where you can ski, give a kid lift ticket and a season, weekend or day pass to ski or snowboard. Add a gift certificate for equipment rental if you want to sweeten the deal. Triple bonus points if you throw in ski lessons!
Geocaching kit – Geocaching is one of our family's favorite outdoor activities! It's basically outdoor treasure hunting with your smartphone and can be done practically anywhere. While you don't technically need anything but your phone and a free account to start geocaching, this beginner's kit is perfect for anyone wanting to hide their own geocache. It comes with a weatherproof logbook long outdoor use and an unactivated trackable to release into the wild. If you want more info on geocaching with kids, we've got a great Beginner's Guide to Geocaching with Kids that will tell you everything you need to know to get started.
Waders – Have kids that love to fly fish? These Oaki wader for kids are our favorites. They're made of 90D nylon, which are completely waterproof, but still breathable. The nylon is soft to the touch and the waders are very lightweight, which makes them easier for kids to walk around in and easier for us to pack. They have a full rubber boot, completely neoprene lined, with a great tread, so no need to buy separate boots. The straps are adjustable and they come in sizes starting as small as 2T, all the way up to 14/15. Plus, their customer service is great. If you ever have an issue, they take good care of you.
Kayak – A kayak would make an amazing gift for the most adventurous kids. This 6 foot kayak is specifically designed for kids ages 5 and up (or up to 130 lbs). The wide stance provides a stable paddling platform to keep your child safely in the kayak. Its sloped back end and swim-up step allows the rider to easily re-enter the kayak from the water. With scupper holes, multiple footrest positions, and great stability, it's perfect for kids recreational kayaking.
Bubbles & sidewalk chalk – While it may be considered a classic summer combination, bubbles and sidewalk chalk are fun for kids year-round. You can use sidewalk chalk to draw holiday scenes in the winter, color puddles for jumping in the spring and tracing leaves in the fall. And have you ever tried blowing frozen ice bubbles in the winter?
Knot tying kit – Teach your scout (or explorer) the basics of knot tying with this fun kit. This kit includes two 6 foot lengths of 3/16 inch double braided polyester rope and a 6 foot piece of tubular nylon (for water knots). The reference cards are water-proof, durable and credit card sized. They clearly demonstrate 17 essential knots or anyone who enjoys camping, hiking, backpacking, fishing, boating, kayaking, etc.
Swim lessons – Teaching a child a life-long critical skill is a great gift! Learning to swim is imperative and important for all children, but swimming lessons can be expensive. Giving the gift of swimming lessons to a local pool or swimming facility not only teaches them a valuable skill, but also makes it fun for the kids.
Zipline kit – Ziplines are fun, safe and easy to set up. Using this kit with thorough installation and safety instructions, you can add a zipline to your backyard in no time. The fully assembled steel trolley comes pre-loaded with an adjustable rope and comfortable seat. The stylish and comfortable rubber grips are screwed into the trolley to ensure a safe and fun ride. This zipline would make  great gift and guarantee fun filled family time outdoors.
Trampoline – And speaking of backyard adventures, a trampoline is the ultimate backyard addition for any active outdoorsy kid. It's a big-ticket item and requires a lot of space, but it's guaranteed to entertain your kids for hours (and hopefully wear them out!). We suggest getting one with a surrounding net enclosure (for safety) and a basketball hoop (just for fun).
Root viewer garden – I love the idea of using this root viewer garden to spark kids interest in growing vegetables indoors, so eventually they'll want to grow them outside! This 

root viewer lets you see how vegetables grow underground and serves as a great year-round indoor experiment for all ages. 

The kit includes a 9-inch x 11.5-inch clear plastic planter with removable top and handle, premium soil, radish, carrot, green onion seeds, and instructions on how to construct and plant.
Pitching machine – There are so many great sports for kids that encourage them to get outside and play. Baseball is a big hit (pun intended) at our house and my son loves this pitching machine.  It has 

3 speeds: 10mph, 15mph & 20mph and an adjustable 3 position pitch angle. There's a red light that flashes to indicate pitch release, which occurs e

very 5 seconds. It holds up to 9 balls and includes 4 foam balls. Requires 4 size C batteries or a power adapter (both sold separately).
Skateboard or roller blades – Encourage your kids to get outside and active with a beginner skateboard or roller blades. Not only will these help your child with balance and coordination, but they'll get lots of fresh air and exercise while they're perfecting their skills. Don't forget the helmet and knee pads!
Sled – There's no better way to get your kids outside in the snow than to give them a sled! We love this 2-person classic rider toboggan sled with a rope lanyard for pulling. The bottom is slick for speed and it has handle cut-outs on the sides for holding tight!
Kids Moon Club Membership – Nicholette Sowder of the Wilder Child and the Wildschooling movement runs a year-long program all about the moon for kids and families. The Kids Moon Club The Kids Moon Club invites you to connect, celebrate, play and walk together through all 13 full moons of the year with families across the world! It includes monthly activities, videos, information on each moon and access to a private Facebook group for building community and sharing ideas. Membership's only open through the end of the year, so sign up now.
Surfer swing – The Swurfer Kick Stand Up Tree Swing lets your kids surf in the air up to 10 feet high! Made of durable plastic strong enough to hold someone up to 150 pounds, this swing is engineered to provide more power, stability & range of motion as kids soar through the air. Hold onto the handles and calmly sway side to side, or use your legs to power higher & carve through the air. Hang it in your backyard or branch out and take it with you on your next hiking, camping, picnic or road trip.
RadioFlyer Wagon – A little red wagon is a brilliant and classic kid-friendly gift. This wagon has been a staple in my kids' childhoods and we use it more than we ever could have imagined. Use it for taking the kids for a walk around the block (they'll not only love riding in it, but pulling it as well) or use for transporting gear and equipment. The uses are endless and it's a ton of open-ended fun.
Telescope – We love this travel/portable telescope with a tripod and carry bag. It's a perfect beginner telescope for kids with a 360mm(f/5.1) focal length and 70mm aperture. The fully coated optical glass has high transmission coatings to create stunning images with increased brightness and clarity. Interchangeable eyepieces make locating objects easy. It allows for many different viewing positions and the tripod adjusts for the smaller star-gazers. It's easy to set up and take outside on a clear night or use during the day to watch wildlife.  Perfect for encouraging any kid that's interested in space, science or astronomy.
Metal detector – Get your kids outside and exploring for buried treasure with a metal detector. This metal detector can be used anywhere (park, beach, fields, backyard) to search for all kinds of valuable metal from gold coins to iron relics. It identifies all metal coin-size objects up to 6 inches deep underground and senses larger items up to 2 feet deep. Includes headphones for private searches in crowded places.
Kitchen helper bundle – If you have a little one that loves to help out, consider putting together a fun kitchen bundle. Include items like a kid-sized apron, kid-friendly cookbook, child-safe kitchen knives, all packaged together and popped into a mixing bowl. And if your little one is…well, little, then how about a kitchen helper so she/he can be counter-level with you and help.
Tinkergarten classes – Experience gifts are so much fun and can create memories that last much longer than any cheap toy. Consider gifting a little one in your life the chance to experience a season of Tinkergarten classes. Each week your child will have the opportunity to spend time outside with other families, learning, playing and exploring. It's not only a great gift for kids, but wonderful for parents as well.
Wild Life Outdoor Adventure Kits – A fun subscription kit for outdoorsy kids that inspire outdoor adventures and learning. Each month a fresh kit of essential outdoor gear, activities, games, crafts, and a merit pin arrives at your door. Your child will earn about the great outdoors, get outside and have fun!
Big Life Journal – The Big Life Journal helps children develop strong Social-Emotional Learning (SEL) and growth mindset skills through inspiring stories, colorful illustrations, and engaging guided activities. In this illustrated journal, children discover: how to believe in themselves, how to face challenges with confidence, mistakes are opportunities to grow and they can achieve anything when they're persistent!
What's on your kids' wishlist this year?
The post 75+ Non-Toy Gift Ideas for Outdoorsy Kids appeared first on RUN WILD MY CHILD.